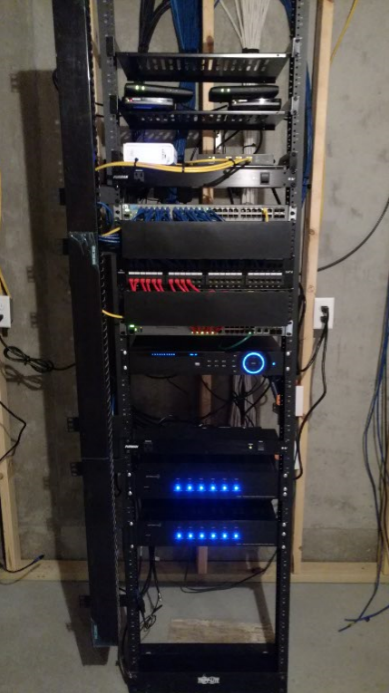 This smart home brought together all of my expertise into one project. I designed the network, whole home audio, smart lighting, ethernet and speaker wiring, and security from the plans before the house even broke ground. I did all of the work exclusively by myself, and while it was a long project, it was a fun and rewarding project. To see all of my work come together and work flawlessly and surpass the homeowners expectations made my year.
This house has cat6 ethernet run to every room (some with multiple runs to each room), it has 12 zones (24 speakers) of distributed whole home audio, 10 security cameras around the outside of the house, an AC access point on each level of the house, Insteon smart lighting, and much more. Everything terminates into this 1 network room. I just love a clean and organized network rack. If you want your network to run good, it needs to also be well organized and look good! I stand by this with ALL of my networking and wiring jobs.
If you are interested in hearing more about this system, I have made 2 YouTube videos detailing this setup.
General Setup Overview https://youtu.be/TeUD5Pqpa9Q
Insteon Smart Lighting Detailed Overview https://youtu.be/QQKLJDU1JM8
This picture was taken during the install before any finishing of the wires was done.
This picture is of 2 of the mini dome (low profile) 4MP IP cameras that are installed. There are 10 total around the outside of the house. I particularly like these cameras because they are small and can't be seen until you are in the driveway.